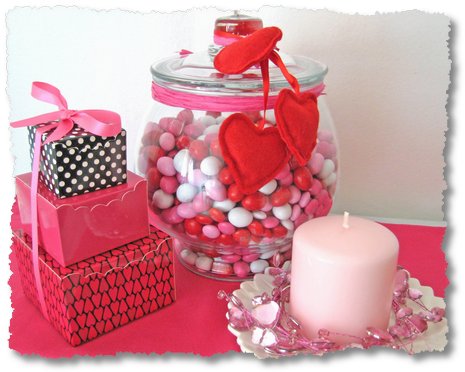 This time of year the magazines and stores are full of glittering,shimmering, and down right glitzy decorations! Last year I went all out and decorated every door in the house, the kitchen, bathroom and any table with space! Let's just say it was a LITTLE more than I should have done! We've moved to a smaller house and sold all those red and pink decorations at a yard sale. I know Tim was thrilled about that!
I want to keep everything "simple and easy" feeling around here!
Here's what I came up with…
I'm decorating with CANDY AND CANDLES!
The LARGE glass jar is filled with colorful candy that's tasty and pretty!  Even the cute little boxes are full of candy. I bought them at Target, cut the tag off, and set it on the table! I know…how creative you say!  The pink candle is on a white flower plate.
Here's why this works for me…
The candy will definitely get eaten, and it's great for bribing the kids to do school work and cleaning…just kidding (not)!!! 

I don't have to pack any of it away and hope to find it in good shape next year!

The little boxes of candy will be given away as a Valentine's Day gift.

The candle will be used now and for Spring decorations.
No waste!  No fuss!  That's why I'm decorating with candy and candles for Valentine's Day this year!  Keep it simple!
That's what works for me…Stop by Rock In My Dryer for more Works-For-Me-Wednesdays!
Be sure to visit Nesting Place and read Tim's Remodeling Guy guest post!